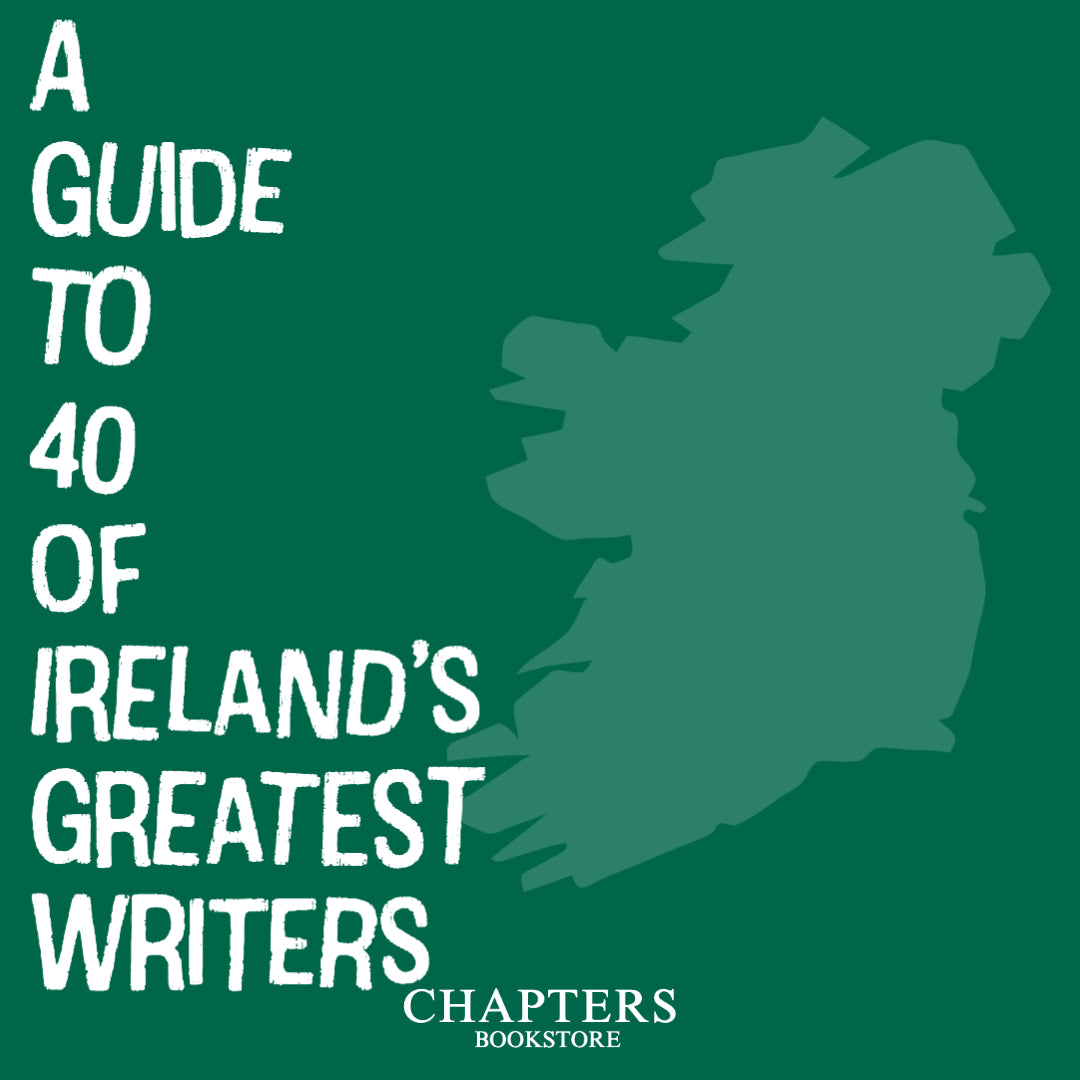 A guide through 40 of Ireland's greatest writers, all lists are controversial so please feel free to contact us if we've missed someone!
James Joyce was a synthesiser, trying to bring in as much as he could. I am an analyser, trying to leave out as much as I can.
Samuel Beckett
The Irish have a way with words! In this blog let us welcome you to the enchanting world of Irish literature - where the imagination thrives, emotions resonate, and stories unfold. Join us on a literary journey across the Emerald Isle with the works of remarkable Irish authors guiding you through the rich history and profound importance of literature in this land of wordsmiths!
In no particular chronological or thematic order, our journey begins with J.T. Sheridan Le Fanu – an unlikely name for an Irishman! His haunting collection of spine-tingling stories immerse readers deep into a world of mystery, the supernatural, and psychological terror and establishedthe foundations of the exploration of the dark and eerie aspects of Irish literature.
Continuing our exploration, we come across Iris Murdoch's "The Sandcastle," a novel that delves deep into the complexities of human relationships. Murdoch's lyrical prose and profound insights provide a mirror to the human soul, reflecting the struggles, desires, and aspirations that define us all. This novel and her work in general, stands as a poignant representation of the human condition.
Moving forward, we arrive at Colum McCann's "Zoli," a tale that transports us to the vibrant Roma community in Slovakia. McCann masterfully weaves together history, music, and the power of storytelling to illuminate the resilience of marginalized voices. "Zoli" resonates with the spirit of Irish literature, where underrepresented voices find a platform to be heard.
Next, we meet John Boyne's "The Absolutist," a haunting tale set against the backdrop of World War I. Boyne's exploration of love, loyalty, and betrayal intertwines with themes of identity and morality. This novel embodies the power of storytelling to navigate the complexities of human nature.
We now delve into John Connolly's gripping crime novel, "The Killing Kind," which draws readers into the depths of darkness and moral ambiguity. Connolly challenges our perceptions of justice, delving into the shadows of the human psyche.
Further along the road, we find Neil Jordan's "Ballad of Lord Edward and Citizen Small", which takes us into historical Ireland, where rebellion and revolution merge with poetic lyricism. Jordan's vivid portrayal of the eponymous characters captures the spirit of a nation in flux and highlights the profound impact of Irish literature in shaping the country's identity.
Our journey takes an imaginative turn with Kevin Barry's "Beatlebone," a novel that blurs the lines between reality and fiction, exploring the enigmatic persona of John Lennon. Barry challenges conventions and pushes boundaries in this introspective work.
No exploration of Irish literature would be complete without a nod to the profound poetry of Patrick Kavanagh. His seminal work, "The Great Hunger," delves into the themes of rural life, longing, and the human desire for fulfilment. Kavanagh's evocative language and profound observations paint a vivid picture of Irish rural existence and its impact on the human spirit.
In a completely different sphere, one of the most popular living authors in Ireland must be Marian Keyes; her modern masterpiece, "Grown Ups" displays her trademark wit and heartfelt storytelling. Keyes exposes the intricacies of family dynamics and the human need to pursue happiness and for the month of July there is 5% off all her books online with the code IRISHQUEENS.
Our literary journey continues with the Baily's Women's Prize-Winning author Eimear McBride's second novel, "The Lesser Bohemians," a mesmerizing exploration of love, identity, and the complexities of human connection. McBride's unique writing style and raw emotional depth make this novel of redemptive, captivating passion and innocence set across the bedsits of mid-1990s London a real standout
Equally as compelling, "Letters of Louis MacNeice" by Louis & All MacNeice offers a glimpse into the life and thoughts of the esteemed poet, providing invaluable insights into the development of Irish literature and the creative process.
Sebastian Barry's is a masterful writer, his "Days Without End" leads us on a captivating adventure through history, exploring themes of war, love, and identity. Barry's lyrical prose and unforgettable characters bring the past to life, showcasing the profound impact of Irish literature in capturing the human experience. This book appeals to readers who enjoy historical settings and narratives that delve into the human experience.
Maybe you'd like to relax? How about some short stories instead? Louise Kennedy's "The End of the World is a Cul de Sac" offers a collection of powerful short stories that delve into the complexities of human relationships, secrets, and the blurred boundaries between past and present whereas "Tresspasses" is a novel that bruises your heart and is completely unputdownable.
Maggie O'Farrell is a formidably accomplished writer, "The Hand That First Held Mine" takes us on a journey through time, intertwining the lives of two women across different decades. O'Farrell's exquisite prose and intricate storytelling reveal the interconnectedness of lives and the enduring power of love. This novel exemplifies the emotive and captivating narratives that are so often found in the works of Irish writers.
Emma Donoghue's "Learned By Heart" highlights the transformative power of storytelling in the lives of children. Through a collection of fairy tales and folklore, Donoghue reminds us of the enduring magic of literature and its ability to shape young minds. This book is an excellent showcase of the importance of literature in Irish culture and its ability to captivate readers of all ages.
No trip through Irish literature would be complete without a stop at "The Complete Works of J.M. Synge". Synge's plays, such as "The Playboy of the Western World" and "Riders to the Sea," capture the essence of Irish life, traditions, and language, making him an influential figure in the Irish literary renaissance.
Sally Phipps' biography of "Molly Keane" presents a compelling exploration of the complexities of Irish society through the story of an unconventional and spirited woman. Phipps' novel offers an intimate portrayal of its characters, highlighting the nuances of Irish society through the life of the writer described as 'the Irish Nancy Mitford'.
If you are looking for a narrative on loss, love, and the search for belonging, William Trevor's "The Story of Lucy Gault" has it all. Trevor's exquisite prose and empathetic characters showcase the power of Irish literature to evoke profound emotions that shine a light on the human experience.
Sean O'Casey's "The Plough and the Stars" transports us to the tumultuous period of the Irish War of Independence, offering a powerful portrayal of the struggle for independence and the sacrifices made by ordinary people.
For the ultimate in a challenging but hugely rewarding read, James Joyce's "Ulysses" is a seminal work in Irish literature and a great starting point for those who appreciate challenging and thought-provoking reads. Its intricate prose and rich symbolism make it an ideal read for those with a penchant for literary exploration. It kicks off with a scene set in the James Joyce museum in Sandycove – which is free to visit and on the Dart, in Dublin.
If you are looking for something more current, Colm Tóibín's "Brooklyn" is an excellent place to start. It takes us through the complexities of identity as a young Irish immigrant finds her place in 1950s America. Tóibín's elegant prose and intimate exploration of characters' inner lives make "Brooklyn" a timeless masterpiece. And of course, it is also a brilliant film, that reinforced Saoirse Ronan's place on the world stage as a leading actor.
If you love poetry, you simply cannot go wrong with W.B. Yeats. "The Poetry of W.B. Yeats" exemplifies the timeless beauty and profound symbolism of Irish culture verse; his work delves into themes of Irish mythology, love, and political upheaval, leaving an indelible mark on the landscape of Irish literature.
Samuel Beckett's "First Love and Other Novellas" delves into the depths of human existence, exploring themes of identity, memory, and the absurdity of life. Beckett's existentialist works challenge readers to question their own place in the world, representing the existentialist strand often found within the works of Irish writers.
John Banville's "The Lock-Up" is a compelling mystery that intertwines past and present, delving into themes of guilt, deception, and the nature of truth. Banville's prose exudes elegance, complexity, and depth.
"Only Dull People Are Brilliant at Breakfast" invites us into the witty and satirical world of one of Ireland's greatest playwrights. Oscar Wilde's razor-sharp wit and social commentary make his works timeless and rightly celebrated globally.
C.S. Lewis was born in Belfast and "The Chronicles of Narnia Box Set" enchants readers of all ages with its fantastical world and rich allegory. Lewis' imaginative storytelling and profound themes of faith and redemption have made his works beloved classics, not just in Ireland, but around the world.
Bram Stoker's "Dracula" is steeped in the realms of horror and the supernatural. Stoker's seminal work not only shaped the vampire genre but also reflects the deep-rooted fascination with folklore and the Gothic tradition here in Ireland.
"Whitethorn Woods" is one of the many wonderful novels written by the badly missed Maeve Binchy, her writing immerses readers in the charming Irish countryside, where interconnected lives and the complexities of human relationships unfold. Binchy's warm storytelling and relatable characters capture the essence of community and everyday life.
Winner of the Nobel Prize for Literature, Seamus Heaney's "Sweeney Astray" presents a stunning collection of translations and reinterpretations of the ancient Irish tale of Mad Sweeney. Heaney's masterful command of language and deep connection to Irish heritage make this work a profound exploration of Irish mythology and culture.
For something completely different, Jonathan Swift's "Directions to Servants" offers a satirical glimpse into the social hierarchy of 18th-century Ireland with biting wit and keen observations, his contributions to the realm of satire are mighty.
Often underappreciated, as his writing is so natural and flowing, Roddy Doyle's "The Snapper" highlights the complexities of family life and the resilience of working-class Dubliners. Doyle's humorous yet poignant storytelling captures the spirit of everyday life and the struggles of ordinary people.
Brendan Behan's "Bit of a Writer" is a collection of essays, poems, and anecdotes that offer a glimpse into the life and mind of this iconic Irish playwright and author. Behan's irreverent and humorous perspective adds a distinct personal flavour to the landscape of Irish works.
I had never realised that Laurence Sterne was an Irish writer, his "The Life and Opinions of Tristram Shandy" takes readers on a playful and unconventional trip through the life and thoughts of its eponymous narrator; his experimental style and digressive narrative displays the boundless creativity and literary innovation present in Irish literature.
Another Nobel Prize winner, George Bernard Shaw's "Pygmalion" presents a scathing social commentary on class and identity. Shaw's wit and sharp dialogue illuminate the inequalities and hypocrisies of society, making this play a pivotal work within Irish literature.
These days it is hard to believe Edna O'Brien's works were often controversial when initially published. "The Little Red Chairs" confronts themes of love, loss, and the legacy of violence in Ireland. O'Brien's powerful storytelling and lyrical prose make her books a true pleasure to read.
For fans of mystery and thrillers, Tana French's "The Secret Place" offers a gripping murder investigation set in an elite boarding school. With its psychological depth and atmospheric writing, this book appeals to readers who enjoy suspenseful and intricately plotted mysteries. We will be writing a blog in a few weeks full of Ireland Murder Queens … so keep an eye out!
Anne Enright's "Actress" is a compelling exploration of fame, family, and the intricacies of memory in which Enright paints a vivid portrait of complex characters and the ever-shifting nature of identity and relationships.
For older children who are competent readers: Eoin Colfer's "Artemis Fowl and the Eternity Code" is an exciting adventure filled with fantasy, technology, and Irish folklore. This series appeals to those who enjoy imaginative and fast-paced storytelling with unique and captivating narratives – great to encourage readers of any age to engage with Irish literature - we read ahead when sharing them with our kids!
John McGahern's "Amongst Women" delves into the dynamics of family and the struggle for individual freedom in rural Ireland. McGahern's evocative prose and intimate characters highlight the harshness of life as well as the intricacies of human relationships.
Another book set in rural Ireland, Claire Keegan's "Walk the Blue Fields" offers a collection of poignant and atmospheric stories written in Keegan's spare yet lyrical style, capturing the essence of the Irish landscape and the complex emotions that lie beneath the surface – it is NOT like "Foster" or "Small Things Like These", but it is brilliantly written and tightly crafted.
As we reach the end of our journey, we anticipate the forthcoming works of Donal Ryan, Graham Norton, Paul Murray and Sally Rooney. Irish authors continue to contribute to the ever-evolving landscape of Irish literature, offering new perspectives and narratives for readers to explore.
So, now you've read our run-down, why not pick 10 of these great books to get through the coming months? Grab a cup of tea, find a cozy nook, and let the words of these remarkable take you on an adventure!
Click here to see more from 40 of the greatest Irish Writers